Best Lighting for Your Home
Many people don't know it, but nothing can change the ambiance and vibe of a space quite like lighting. It can change the mood completely, redirect your focus, and define the purpose of a room. Whether you have an open concept layout or a more traditional floor plan, there's no reason to settle for bad lighting when there are so many fun, functional options out there.
From pendant lamps and flush mounts to unique chandeliers and the best light bulbs for your home, think about everything from ambient to task lighting when looking to change the fixtures in any particular space.
While you want to be true to your aesthetic, your lighting still has to serve a purpose. If your lighting is less than brilliant, it's time to take a second look with help from the experts at Color Cord Company. Continue reading to learn about the best lighting for your home to completely transform any kitchen, living room, bedroom, and even office!
1. Around the House
There are many transitional spaces in your home that still need ample lighting. From hallways and closets to that small step leading from the kitchen to the dining room, you need to take everything into consideration to create the best lighting for your home.
If you're looking for some tips to help you get started, you've come to the right place! The experts at Color Cord Company have a few simple recommendations for you to follow, including:
Use at least three sources of light in each room: general, task, and ambient lighting.
Maximize the use of natural light with clean windows and simple shades.
An embellished fixture can take you from bland to brilliant quickly and easily.
Let reflective surfaces contribute by bouncing light off them and around a room.
Triple measure your space to guarantee a good fit!
It's also really important to choose the right shade for your bulb. It won't matter if you have the best light bulb for your home, if the shade you have on it doesn't make the most of it. The simplest comparison of shades is the white shade or a color tinted shade. If you choose a white shade, you're going to get more light passing through, but it also results in a colder, more sterilized light. Tinted shades create a warmer, creamier hue — especially when they're in shades of cream, red, orange, and yellow.
A Note on Light Sources:
You can break down light fixture types into the three lighting source categories. General lights are usually overhead lights or pendant lights. Specific or task lighting is usually a lamp or table top fixture. Ambient lights are typically decorative, like sconces or candles. Include all three in every room to create the best lighting in your home.
2. Bedroom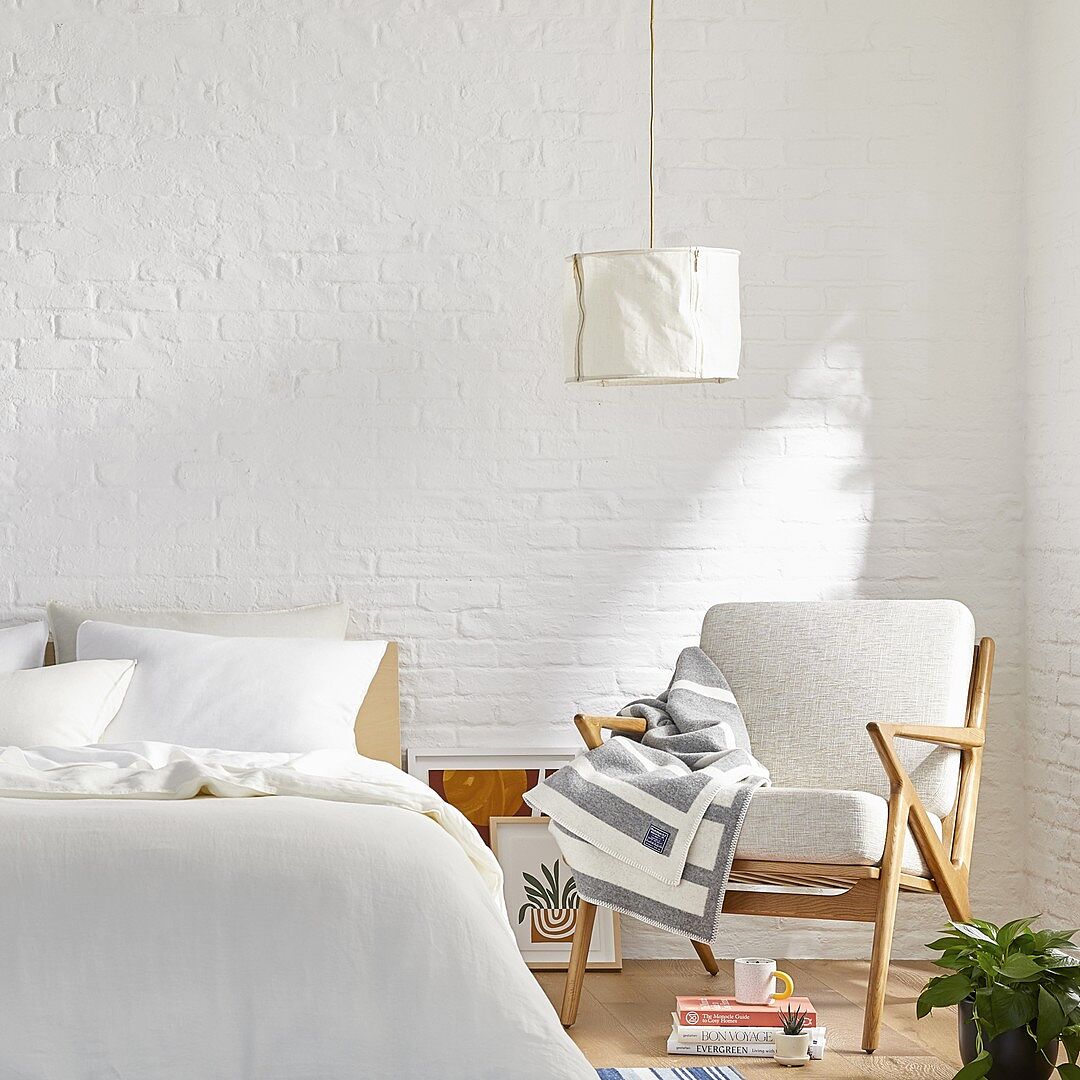 As one of the most important rooms in your home, bedroom lighting needs a careful eye and a deft touch. Your bedroom can become a whole new environment just by changing out your reading lamp or your ceiling lights. Customize your bedroom with exactly what you need for your tasks here. Do you spend a lot of time putting on makeup? You need a vanity light that shines bright. Is there a reading nook that is just calling your name? You should find the right height lamp to illuminate your novels. Are you hoping to create an elegant and opulent space even in your private quarters? Then you should consider a chandelier the best lighting for your home here!
3. Kitchen
Everything you do in the kitchen requires good lighting. You don't want to reach for the salt and end up grabbing the pepper instead! In addition, to make sure you can see what you're putting in your food, the best lighting for your home also ensures you can find all the cooking accessories you need right away and that you're able to work with knives safely. Some lighting you might not have considered that is essential in this space includes:
Under Cabinet Lighting
Lighting under your cabinets is perfect for finding anything you need in these storage areas, but it also illuminates your countertops from another angle. Light even the darkest corners of the kitchen, including your cupboards, pantry, and shelving, when you consider light fixtures in unconventional places.
Pendant Lighting
Pendant lights are great task lighting options to place over the areas where you do the most meticulous tasks. Consider placing them over the sink to illuminate dishwashing, over the island to make sure you have enough light to chop, and anywhere else you do a lot of prep, cooking, and cleanup. Suddenly, your kitchen has the best lighting in your home!
Uplighting
Uplighting is when you place single, individual light fixtures at the base of points of interest or architectural details. They're usually around the perimeter of a space and can do a lot to highlight different aspects of your kitchen. Whether it's succulents on the windows, art along the walls, or ornamental storage (like hanging pots and pans), these are all places where uplighting can make a big difference.
4. Living Room
The living room should be a versatile, welcoming space for both hosting and relaxing. Since it's often one of the largest rooms in a home, you can take advantage of the space with more extravagant lighting choices. Create the best lighting for your home with oversized pendants, custom chandeliers, or massive flush mounted fixtures. Adding a dimmer to the space allows you to quickly change the mood from festive to subdued!
5. Bathroom
Getting your lighting just right in the bathroom can often be an afterthought after you've upgraded the rest of your home's light fixtures. But, creating a serene escape with the best lighting for your home when you install vanity lighting, daylight simulation bulbs, and bulbs that mimic candlelight can help the space feel more pleasant. The bathroom is one place where you can definitely avoid fluorescent lights, so you don't feel as though you're in a doctor's office.
Final Thoughts
You might find that the hardest part of picking out the best lighting for your home has more to do with style and aesthetic than anything else. With so many options available, it's no wonder you aren't sure what pendant, lamp, or wall sconce to pick!
At Color Cord Company, we recommend taking the time to measure your space to help eliminate any fixtures that won't fit just right. Next, consider your decor to help you choose something that matches. Do you have a vintage vibe? Maybe an Edison style bulb is the best light bulb for your home. Looking for something a little more modern? Choosing a geometric cage or a lamp shade made of unique materials is probably your best bet.
If you get stuck at any point, Color Cord Company is happy to help with tips and advice. Explore our blog to find more tools and videos that help you customize the lighting in your home!