Lights for your Creative Business
Are you a ceramic artist or lampshade designer looking to integrate your original designs into light fixtures? Perhaps you have a maker business and are hoping to build your brand with options for plug-ins? Let us help get you started with some ideas on how to work with Color Cord Company.

Adding electrical assemblies into your product offerings can be a great way to grow your business and expand your creativity. There are several ways that you can do this; some may involve DIY or, in other instances, you may just need to design your shades according to our parts so that they are compatible with our assembly and cord set options, thereby avoiding the DIY challenge and effort. Arguably, the simplest way to work with our products, which some vendors choose and you might also consider is customer referrals directly to Color Cord Company. This allows your customer to create a custom fixture with your shades while taking all the responsibility of the fixture design or inventory off your workload. These are all options that you can explore to determine what is best for your business operations.
Here are other things to consider as you plan to add electrical accessories or assemblies to your product offerings:
Shade Compatibility
If you decide to go with our assemblies which you can sell via retail or as a customer referral for the fixture purchase, you will need to make sure that your shade is compatible with our sockets first. It is important for you and your customer to know that there is not a universal standard shade opening so we do recommend that you get samples and create prototypes with either our AiO or Shade-Ready sockets. 
Here are the two I would recommend:
Here is a video explaining shade openings and how the shade will fit on these assemblies: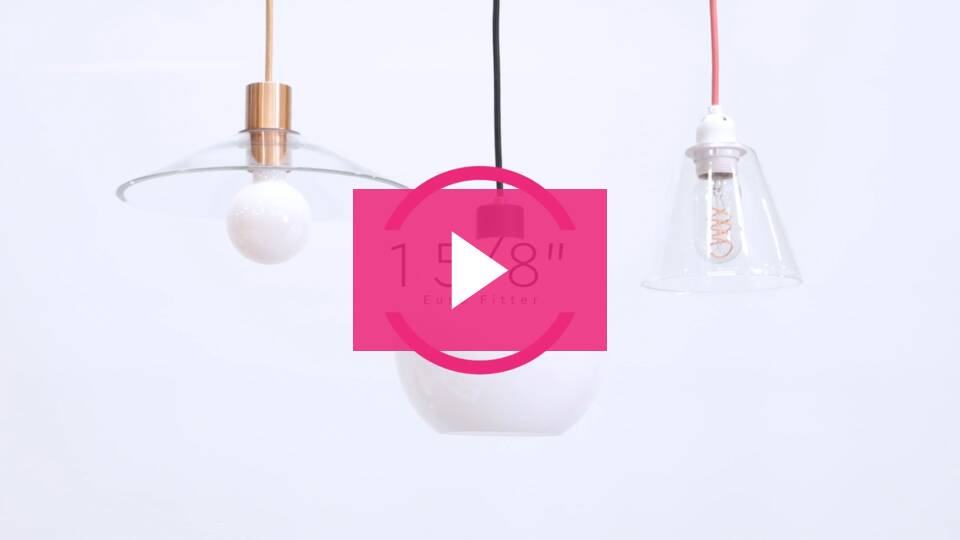 Once you confirm that our sockets are compatible, we offer assemblies or parts for DIY assemblies to make sconces, flush mounts, chandeliers, and pendants, as well as the plug-in cord sets. 
UL/cUL Safety Rating

While we can not advise any business on the parameters of UL, or the design and implementation of custom fixtures that are outside of our offerings, you will want to be aware of the importance of UL/cUL safety ratings which are commonly needed for commercial applications. Many customers will also seek out this sticker designation too. It is important to know that it is only offered on assemblies that are manufactured by UL reviewed and approved production facilities. We are an official provider of UL fixtures and offer the official sticker on all of our fixtures, but DIY projects would not have this rating. Please note that our assembled cord sets would come with UL/cUL stickers but we are not certified for Europe or Australia.
Trade or Wholesale?

Should our cord sets or parts work for you, then you can apply for the trade or wholesale program to order these items to sell with your shades. We offer two levels of discounts which you will want to be aware of: trade and wholesale.
The Trade program and discount is ideal for your startup phase and prototyping as there is no order minimum. This is also the level of discount that you would use for any custom purchases, which includes whips and plug-in cord sets, which are best sellers for makers. For the trade discount program, you will log into your account online and a 20% discount will automatically apply to purchases made through the retail website. You can apply for the trade program here.
If you find that you are in need of mostly parts (without the customization) and the retail value is reaching $1000 USD then we will want to upgrade you to the wholesale program for bulk ordering which would require a PO submission along with wholesale approval. Should this DIY or bulk cord option be of interest, then apply for the wholesale program here.
Custom Designs or DIY

In some cases, you will need to DIY the fixture based on the shade that you are designing. Examples of this include the fixed shade assembly, e12 sockets, and UNO sockets. We are happy to offer suggestions for parts on assemblies that use our components or are similar to our designs already shown online. But, the best way to get started is to order a sampling of parts and design a prototype on your own to get to know what we can provide. If you are making something unique that integrates in proprietary components, it can be a challenge for us to offer advice on assemblies that use outside components that we do not know. But, feel free to send images of your lighting fixture plan and we can take a look to advise the best that we can. We also recommend that you get to know our products and their uses by checking out our Guides page, and our D.I.Y. Blog.

 
How To Get Started

After reading this blog and checking out all of our links, sign up for a Trade account to order parts. You can order individual parts that you are most likely to use based on the assembly videos provided, such as the Shade-Ready socket. Or, order a cord set, such as the AiO Core Plug-In Cord Set. Once you receive the products, we encourage you to experiment and figure out what works best for your designs. Then, figure out how you want to work with our products as there are many ways to integrate our parts into your business model as noted above. To get started, it is usually best to start simple with a few cord sets or parts options and then see how it goes with customers and prototypes to determine your specific plan for ordering from us.

We appreciate you using our products in your creative designs and business planning! Feel free to reach out if you have follow-up questions to help you determine your prototypes and next steps.